Keurig Cleaning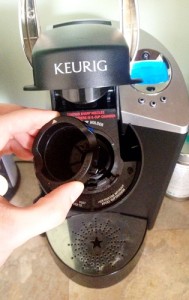 How to Clean a Keurig Brew Head
There are different parts of your Keurig coffee maker that require routine maintenance in order for it to continue to run effectively. One of the things that need to be cleaned periodically is the brew head.  But, the question is, how to clean a Keurig brew head.
You need to do a Keurig Cleaning or Maintenance several times a month.You should clean the Keurig Brew Head 1-2 times a month specifically. You should also clean it out anytime you switch flavors of coffee, or when you brew tea, cocoa, cappucinos, or ciders. So, if you are simply using the exact same coffee in your Keurig everyday, then you just need to make sure that you clean it once or twice a month. However, if you use it for more than that, then basically each time you put a new type of K-cup in the machine, you need to clean out the brew head before the next use.
Watch here to see how to clean a Keurig brew head.