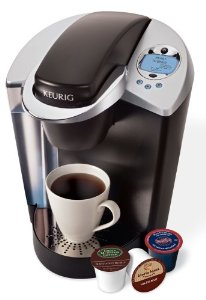 Who owns Keurig and Where are they Based?
Green Mountain Coffee
Keurig is a wholly owned subsidiary of publicly traded parent Green Mountain Coffee Roasters (GMCR), which is headquartered in Reading, Massachusetts. The Keurig subsidiary is located in Reading with its parent company, and they manufacture their products in the USA for home and commercial use.
Who Founded Keurig?
Keurig was the brainchild of Peter Dragone and John Sylvan who started the company in 1990. They also received support later on from another co-founder, Dick Sweeny, in 1993. The idea behind the whole company was that if they could develop a brewer that produced just a single cup of coffee, they could provide a cup of coffee with a much better and more consistent flavor. Initially, the company was funded by multiple venture capital investors, with GMCR eventually investing in 1996, which bought them a 35% stake in the company.

First Launch
Eventually after 8 years of product development, Keurig launched their first brewer in 1998, a model called the B2000. This model was only for commercial office use. Later in 2000, they also added tea as well as other beverages such as hot chocolate to the items they provided in their K-cups. The product was an absolute hit! By 2003, they had sold more than 40,000 brewers to commercial offices in America.  Also in 2003, GMCR decided to buy into even more of the company, upping their ownership shares to 43%. After Keurig released their first home brewer, the B100, in 2004, they began to think about going public. Poised for explosive growth, GMCR made the decision to acquire Keurig in 2006 for $160 million before they went public on their own.

What Coffee Brands Have a Keurig K-Cup?
If you're worried you won't be able to find your favorite brand of coffee by switching to having to buy K-cups for your Keurig Brewer, you shouldn't! Keurig has partnered with basically all of the nationwide national brands, and many more you've probably never even had the opportunity to try. You can buy K-cups from Starbucks, Dunkin' Donuts, Green Mountain Coffee, Bigelow Tea, and many other national brands. And, on the slim chance that you can't find your favorite brand offered in a pre-packaged K-cup, there are many different varieties of K-cup coffee filter sets that you can buy which will allow you to use your own bag of coffee in the brewer.