Why Switch to Keurig if You Own Another Coffee Brewer?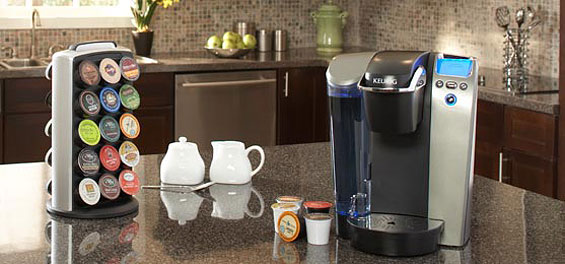 Keurig has continued to improve their systems, and they now offer their brewers for both home and office use, and give users many of the choices that some of the top dollar coffee brewers offer already. If you're currently an owner of a top of the line brewer that allows you to change the temperature of your coffee, the brew strength, has auto on and auto shut off times, and that allows you to pick the size of the cup of coffee you want to make, Keurig can offer you all of this and more. They even have an espresso single-cup system which will froth fresh milk for lattes and cappucinos.
If you're worried you won't be able to find your favorite brand of coffee by switching to having to buy K-cups for your Keurig Brewer, you shouldn't! Keurig has partnered with basically all of the nationwide national brands, and many more you've probably never even had the opportunity to try. You can buy K-cups from Starbucks, Dunkin' Donuts, Green Mountain Coffee, Bigelow Tea, and many other national brands. And, on the slim chance that you can't find your favorite brand offered in a pre-packaged K-cup, there are many different varieties of K-cup coffee filter sets that you can buy which will allow you to use your own bag of coffee in the brewer.
What WILL you get with Keurig that you can't get with your current coffee brewer? You can make tea, hot chocolate, ciders, cappucinos (you can make this minus the frothy fresh milk on all of the brewers), flavored coffees, iced coffee and iced teas. You can buy sampler packs that will let you sample a cup of 30 or more coffees without having to buy a huge bag of coffee that you may never use again. The sampler packs offer coffee lovers HUGE advantages. How often have you been stuck buying the same coffee over and over again because you're afraid of getting stuck with a $10 bag of coffee you hate?
The other BIG thing you will get with a Keurig is less wasted coffee and, and you will pay less per serving for a cup of coffee as well. Over a 1 year period, switching to Keurig K-cups can save you lots of money! Now have we got your attention?
How many times have you had to make at least a 4-cup pot of coffee just so the coffee didn't taste too weak?
How many times have you had to throw half of a pot of coffee down the drain because you didn't drink it all?
How many times have you come back to pour yourself another cup of coffee that is left over only to find out that it is cold or that it tastes slightly burned or off?
With Keurig, that won't happen. You make yourself one cup of coffee each time you need it. So, each cup is piping hot, fresh, and doesn't go to waste.
If you were to do a cost analysis of what you pay for your typical bag of coffee, and measure out how many cups of coffee you get with each bag, and if you were to also keep track of how many cups of coffee you had to throw out each day because you didn't drink all of them, you would find that the difference between what you are paying now for a cup of coffee vs. the average cost per cup of Keurig K-cup coffee is significant. Switching to Keurig K-cups could save you between $0.25 to $0.45 per cup of coffee. The annual savings of switching to Keurig K-cups could be significant!
To learn more about how the Keurig System works, click here to find out what in in a K-cup and how the brewer uses the K-cup to make the perfectly blended cup of coffee.