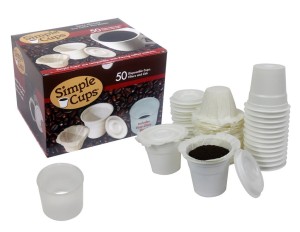 Need to Use Coffee From a Bag That is Not Available in K-Cups?
Simple Cup Disposable K-Cup Set Highlights:
Use your own coffee or tea instead of buying costly K-Cups
Fractions of the cost of K-Cups and other brands of Disposable K-Cups
No Mess, Easy to Use
Fully recyclable
Simple Cup Disposable K-Cup Set Features:
Disposable K Cups for Use in Keurig® Brewers – Simple Cups – 50 Cups, Lids, Filters with Easy Close Stand – Use Your Own Coffee in K-cups: Stop spending tons of money on pre-made K-cups! Don't settle for pre-determined flavors. Make your life simpler with Simple Cups. At a fraction of what a K-Cup would cost, you can use YOUR own favorite coffee in your Keurig machine – and can do so cost effectively and easily. Your coffee experience just got that much better
Reviewer Comments:
If you buy all of these together and not boxed separately, from a cost perspective, you will be paying $0.29 per cup of coffee. A K-cup flavor bought off the shelf will run around $0.48-$0.55 per cup.
If you buy the lids, cups, and filters separately in higher quantities of 100 ct., you cost will jump up to $0.55-0.60 per cup. See my review here for the cost breakdown.
So, bottom line, this method is cheaper than buying the original K-cups at the store, but only if you buy the complete sets.
The least expensive method is still using the reusable K-cups like this one.
If you'd like to try out Simple Cups' Disposable K-Cup Set, you can buy it now by clicking here.