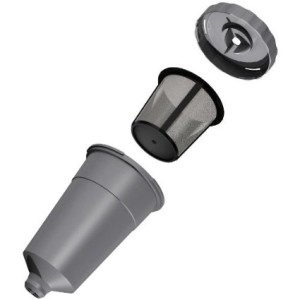 Can You Use Your Own Coffee in Your Keurig?
Keurig My K-Cup Reusable K-Cup Replacement Coffee Filter Set
Fits B30 B40 B50 B60 B70 series
3-piece replacement filter set in a sealed pouch with instruction label attached. Not in ziplock bag or retail box.
Filter housing is color gray.
Allows users to use their own gourmet ground coffee in a Keurig brewer
Fits Keurig home brewers B30 B40 B50 B60 B70 series. Does not fit VUE, B130, B131, Office Pro or other commercial models. B31 please make sure existing K-cup holder is removable first.
Rinse clean under running water after each use.
My K-Cup Reusable K-Cup Coffee Filter Features:
For use with Keurig K-Cup brewers Fits in the brew chamber of a Keurig brewer Each 3-piece set includes one mesh filter basket, one gray color holder and lid. Each set is in individually sealed pouch with instruction label attached. Reusable design allows you to make your own favorite ground coffee.
Reviewer Comments:
I own a My K-Cup Filter, and use it for some of my brewing.
Note that you MUST remove the existing black K-cup filter before inserting this into your coffee maker. Put one finger under the bottom spout where the coffee comes out, and push up carefully until it pops up. Then you simply insert the My K-cup filter.
I have had problems with coffee leaking out the bottom as well as the top instead of just dripping straight into the cup, and sometimes it can make a mess. Don't over stuff the filter with coffee, leaving plenty of room for water in the cup. I've found this makes it less likely to spew out the bottom and top improperly. It should just drip out like your K-cup filter.
I have also had problems on occasion with coffee grounds getting into my cup. Whether or not this happens depends on how finely the coffee is ground. I've found that more coarsely ground coffee grinds do not sneak into your coffee cup as badly. It's not bad, just a few grounds, but I am a purist. I don't want anything else in my coffee cup but brewed coffee.
This IS a great alternative to a K-cup if you have coffee you like which is not available in anything other than a coffee bag. This happened to me this past summer when my family returned from the Big Island of Hawaii loaded down with Kona coffee from various coffee farms.
I would probably go with the Eko-Brew rather than the My K-cup simply because of the issues that I have had, but this product DOES WORK. It just has a few small design improvements that need to be made.
If you'd like to buy a Keurig My K-Cup Reusable K-Cup, you can buy it now by clicking here.