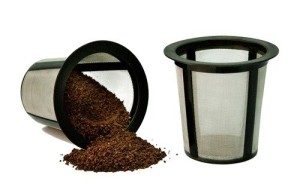 One of the Most Economical Ways to Brew Your Coffee is With Reusable K-Cups
Fits easily with your My K-Cup Adapter [not included]
Dishwasher safe on top rack
TWO FILTERS INCLUDED
Fit Keurig and Cuisinart K Cup Housing Assemblies as shown
Reusable K-Cup Filter Basket Features:
If you buy this product, you are purchasing TWO replacement filter baskets for their Keurig or Cuisinart My K Cup Assembly (grey or brown housing for filter baskets.) The housing is not included in this deal however most sellers of the baskets carry the housing as well.
Reviewer Comments:
See my other review article on whether or not the My K-cup Reusable K-cup is a good alternative to using K-cups. 
This DOES NOT INCLUDE the grey housing component that you set the filter into – int only contains the filter basket.
One of the common problems mentioned with the My K-cup reusable K-cups is that it leaks and that grounds tend to seep into the coffee. If this is happening with your My K-cup product, I suggest trying one of the other ones out on the market. Just be sure to read through other reviews about these products carefully before investing in them. A lot of the other products similar to this one also have the same problem.
You might also like this product.
If you'd like to buy the Keurig Reusable My K-Cup Filter Basket, you can buy it now by clicking here.