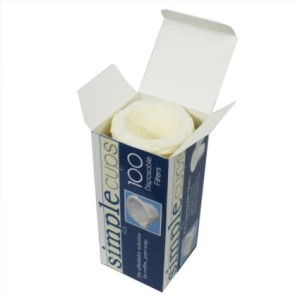 If You Could Save Money By Using a Disposable K-Cup, Would You Quit Buying K-Cups?
$0.09 per filter
Use with Solofill®, EZ-Cup®, My K-Cup®, EkoBrew®, Simple Cups, Disposacups, etc
No Mess – Fully Disposable Filters
Use Simple Cup Filters Your way with your own choice of coffee
Save money – Environmentally friendly
Re-Use your Simple Cups over and Over
Simple Cup Disposable K-cup Filter Features:
Disposable Filters for Use in Keurig® Brewers – Simple Cups – 100 Replacement Filters – Use Your Own Coffee in K-cups: Enjoy your own coffee your way with Simple Cups. Use your Simple Cup Filters with your Simple Cup disposable K-Cups, or with any K-cup and save immediately. Use Your Own Coffee in K-cups: Stop spending tons of money on pre-made K-cups! Don't settle for pre-determined flavors. Make your life simpler with Simple Cups. At a fraction of what a K-Cup would cost, you can use YOUR own favorite coffee in your Keurig machine – and can do so cost effectively and easily.
Reviewer Comments:
These filters are filled up with the coffee of your choice, and placed inside a plastic cup (sold separately) and a plastic lid is attached on top to seal the cup (also sold separately. This makes an airtight seal, so no need to worry about coffee grounds seeping into your coffee.
You can buy these in kits from Simple Cups. Either the filter, lids, and cups each sold separately, or together as a set. Some people like to re-use the cups and just put in a new filter and lid. So, that is why they are sold separately as well as together.
I was curious what the total cost of one disposable K-cup amounts to when you add all the costs together. The disposable filters are sold in a pack of 100, and cost $0.09 each given the current Amazon Prime price of $8.95. The disposable lids sell in a pack of 100, and cost $0.09 each at the current Amazon Prime price of $8.99. And, the disposable cup sells in a pack 50 for $14.95 for Amazon Price members, making the cups $0.30 each. So, this makes each cup approximately $0.48 BEFORE you even add the coffee in it. Once you add in the coffee, the price rises to approximately $0.55-0.65 per cup. Most K-cup flavors sell for $0.48 – $0.55 per cup, so using the disposable cups, lids, and filters will actually cost you slightly more per cup than using a reusable k-cup filter or original K-cup.
Thus, this is the LEAST ECONOMICAL means of using your own coffee in K-cups. Although you alleviate the possibility of grounds seeping into your coffee, you will be paying $0.10 more for this over the reusable k-cup filters.
If you'd like to buy Simple Cup's 100 Filter Replacement Kit, you can buy it now by clicking here.