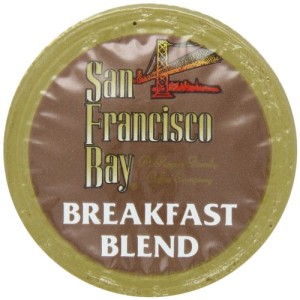 Looking for a Smooth Cup of Joe from The Bay Area?
Then look no further! This K-cup blend is currently the #3 top seller in the Grocery and Gourmet Food category on Amazon.
Looking for Cheap K-Cups? This Is a Best Buy!
Central and South American beans perfectly blended to yield a delicious, satisfying coffee
Compatible with Keurig K-Cup brewers and other brands of single serve brewers
Richer, more full-bodied flavor than other coffees
Inspected repeatedly before, during and after roasting to make sure all is right every step of the way
Grown responsibly and Fairly Traded coffee
A delicious, satisfying coffee to look forward to in the morning
A lighter flavored solution to your morning cup of coffee
Comes in an 80 or 160 count box of K-cups
Richer, more full-bodied flavor than other cups
Unique custom blends, exotic regional coffees, and single estate coffees
Features: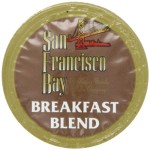 Are you looking for delicious, gourmet coffee available in a wide selection and at great value? Then "San Francisco Bay Coffee" is for you. We've developed a line of unique custom blends, exotic regional coffees, and single estate coffees available in a box of 80 or 160 count K-cups. All are environmentally and socially responsible gourmet coffee offered at the best possible prices. We stand for premium, sustainable, fair and direct trade coffee and tea at prices you'll love!   We like to say our products are grown for good. Our Community Aid Program has restored thousands of acres of rainforest by farming only with shade grown farms, and planted our own coffee on our own organic farms. Our OneCup single serve coffees are compatible with Keurig K-Cup brewers and other brands of single serve brewers.
Reviewer Comments:
Cheap K-Cups – The real cost-savings here is if you buy the 80 count box of K-cups – NOT the 160 count box as one might think. The 80 count box drops the price per K-cup to $0.33 per K-cup, however, the 160 count box costs $0.62 per K-cup. So, if you need that many, just buy two of the 80-count boxes. This is probably some of the least expensive K-cup coffee you can buy. Compare this to $0.60 per K-cup for Donut Shop's K-Cup flavors or $0.52 per K-cup for a 96 count box of Green Mountain Coffee's Breakfast Blend.
These K-cups are actually Coffee Pods that are universally compatible with multiple single serve coffee makers
The bottom of this K-cup is not made of plastic like most of the coffee-mate like K-cups. Instead this one has a thin filter on the bottom of it.
Because of the filter on the bottom of it, when you open the box of K-cups, you are going to have a smell from the box similar to what you smell when you open up a bag of coffee beans.
This is a stronger flavored coffee with a very smooth taste, but it is not as strong as the Medium and Bold / Dark roasts. Thus, it has a smooth flavor and does not leave the bitter after taste that the bolder flavors leave.
This coffee is a bit stronger than you typical Breakfast Blend coffees.
Be sure to keep these K-cups in a Ziploc bag in order to maintain freshness of the coffee due to the filtered bottom of the K-cup.
This K-cup has a plastic ring at the top of the cup which is supposed to rest on the top of your K-cup holder in your machine. I have read one review where the reviewer said that when they tried to close the lid on their B40 model, that it stuck up enough that it broke the handle of the coffee maker. So, please make sure that the K-cup fits in your machine by carefully closing it the first time you brew a San Francisco Bay Coffee K-cup in it.
Bottom line, cheap K-cups does not = bad-tasting K-cups. This is a product where you get good value for the money.
You can buy San Francisco Bay Breakfast Blend K-cups by clicking here.