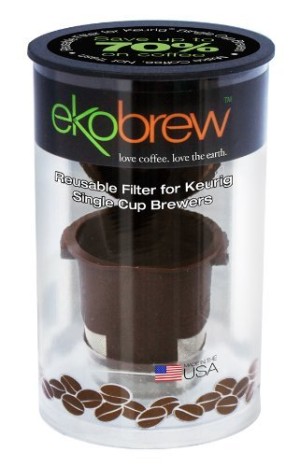 Ekobrew Cup – Reusable K-Cup Filter Highlights:
Now with a reinforced hinge, denser material for greater strength and a tighter seal
Save money by using your favorite coffee and at the same time reduce the impact on the environment. 100% BPA free plastic.
No need to remove the Keurig filter holster; Simply fill the Ekobrew, place it in your machine and brew normally
Ekobrew's unique design provides the very best coffee possible and our smooth interior makes clean up fast and easy.
Ekobrew is not compatible with the B30, B130, B150, B155, Mr Coffee BVMC-KG5 or Vue
Note: Because of the small lightweight size of this product, it will only ship via Amazon with orders made from Amazon (not from one of their 3rd party affiliates) when the order is OVER $25.00.  Included with the order once it is over $25.00 is free shipping for this item only.
Ekobrew Reusable K-Cup Features:
The Ekobrew was designed for ease of use. Sit the flat bottom on any flat surface, lift the easy open lid and fill with your favorite drip grind coffee. Snap the lid shut and Ekobrew fits perfectly in most Keurig brewers including the mini. After brewing, lift out of the holster using the heat resistant grips without getting burned. The smooth crevices in the brew chamber make clean up quick and easy.
Pre-infusion Cone allows water to gently soak the coffee before full extraction.
Heat Resistant Grips mean a safer and easier removal after brewing.
Dual Entry Points mean no removal of the Keurig filter holster.
Deep Brew Chamber means more water and a more complete coffee extraction.
Flat Bottom Design means easier, hands free filling and less waste.
Smooth Interior Ekobrew's smooth, rounded crevices mean quicker and easier cleaning after use.
High Quality Mesh allows for an optimal and consistent flow of coffee with each brew.
Silicone Seal that Ekobrew uses is a superior heat resistant o-ring seal made of silicone instead of rubber.
Reviewer Comments:
This is the best-selling coffee and espresso accessory in the Amazon store.
Airtight seal around filter enables coffee to be made that does not allow coffee grinds to seep into your coffee cup like I've had happen with the My K-Cup reusable k-cup filter that I previously had purchased.
Easy to pull out of the coffee maker.
Easy to clean.
Allows you to use some of your favorite coffees that might not be available in K-cups – like my Kona coffee bags that I just brought back from various coffee plantations I visited while on the Big Island of Hawaii.
If you'd like to buy an Ekobrew Reusable K-Cup, you can buy it now by clicking here.