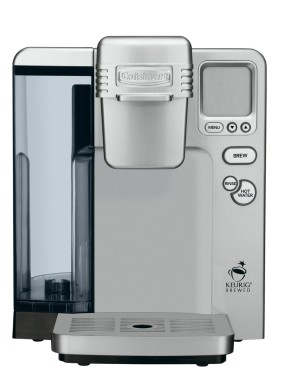 Why Cuisinart Over Keurig K75?
It Brews K-Cups, Has a Longer Warranty, and Has the Largest Water Reservoir
Cuisinart SS-700 Single-Serve Brewing System Highlights:
Large 80-ounce removable water reservoir eliminates the need for frequent refills
5 cup sizes, including iced beverage setting and removable drip tray for tall travel mugs
Fully programmable blue backlit LCD with digital clock, auto on/off, and adjustable temperature
Includes: My K-Cup Reusable Coffee Filter, charcoal water filter, 12 K-Cup Portion Pack and instruction book
Product Built to North American Electrical Standards
Cuisinart SS-700 Features:
Perfect for both personal use and entertaining, this single-serve home-brewing system offers consumers fresh gourmet coffee, tea, hot cocoa, and more in under one minute. Choose either 4, 6, 8, or 10 ounce from the icon on brewing size options. Using Keurig K-Cups—featuring over two hundred varieties of pre-measured, premium brand coffee and tea–this brewer's innovative one-touch technology makes it easier than ever for consumers to enjoy a wide array of hot beverages. No matter which cup size you choose, the Cuisinart Single Serve Brewing System , working in conjunction with K-Cup, always produces the perfect cup every time.
 Hot Water / Rinse
This brewer is equipped to dispense hot water to make hot chocolate, tea, soup, and more. It is also equipped with a rinse cycle to flush out residual flavors. The rinse cycle will dispense about 4 ounces of hot water.
Brewing with the My K-Cup Reusable Coffee Filter
The Cuisinart Single Serve Brewing System comes with a My K-Cup reusable coffee filter, which allows you to use your own ground coffee. The dishwasher safe, My K-Cup conveniently stores in the easy-open compartment.
Special Programmable Features
The brewer provides three ways for you to enjoy gourmet coffee, tea of hot cocoa on your own schedule. It will take the brewer approximately 3-1/2 minutes to warm up from room temperature.
Leave it on all the time: The brewer can be left on all the time so that is it always ready to brew a fresh cup of gourmet coffee, tea or hot cocoa. To turn the brewer off at any time, simply press the power switch located on the right side of the brewer.
Set the Brewer to AUTO OFF: This will automatically shut the brewer off after a specified period of time from the last brew.
Program your Brewer for a specific ON and/or OFF TIME: By programming your brewer to turn on each morning, you will never have to wait for the brewer to warm up in order to brew a gourmet cup of coffee.
Programming Brew Temperature: The brewer brews at a pre-set temperature of 192°F. If you prefer a cooler cup of coffee, hot water, tea, or cocoa, you may adjust this temperature down by 5 degrees.
Reviewer Comments:
The Cuisinart SS-700 Single Serve Brewing System model is extremely easy to use and setup.
Easy to clean
No problems getting the Auto On/Off feature to work so that the water is already heated when you're ready to make your beverage.
5 brew cup sizes are very convenient
Has an 80 oz. water reservoir, which is larger than any of the Keurig brewers.

Has a 3-year warranty – 2 years longer than any of the Keurig brewers.

My K-cup that comes with this brewer makes a very poor cup of coffee with grounds floating in your drink. I recommend the Eco-Brew Reusable K-cup here. It cleans easily, the lid stays sealed shut so water doesn't spew out the side of the brew head, and grounds do not seep into your coffee cup.
Does not include a descaling or water filter indicator so you know when to do maintenance.
If you'd like to buy the Cuisinart SS-700 Single Serve Brewing System, you can buy it now by clicking here.