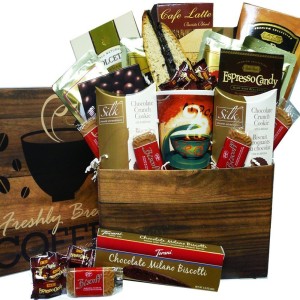 This Coffee Lovers Gift Basket is a #1 Seller on Amazon!
Looking for something that will totally 'Wow!' your favorite coffee lover? This little gift basket has it all.
This gift basket includes:
Four Packages of Premium Coffee (Colombian, Jamocha Almond Fudge, Butterscotch and Tiramisu)
Cafe Latte Drink Mix
Torani Chocolate Milano Biscotti
Tiramisu Cookies
Two Chocolate Silk Crunch Cookies
Double Dunk Chocolate Chip Cookies
Double Chocolate Brownie
Dolcetto Tiramisu Filled Chocolate Pastry Rolls
Java Bon Cappuccino Candy
Bali's Best Espresso Candy
Keepsake Mug
Reusable Coffee-Themed Box
This handcrafted Art of Appreciation original gift box is ready to give in a coffee-themed box with lid.
Coffee Gift Basket Features:
Create a buzz with the "Coffee Lovers Care Package Gift Box" from Art of Appreciation Gift Baskets. Your java-loving recipient will enjoy the premium coffee, gourmet sweets, and keepsake mug, all cleverly wrapped in a reusable coffee-themed box.
This thoughtful Coffee Lovers Care Package is a great gift box arrangement, complete with a coffee mug, then filled to overflowing with premium coffee and gourmet go togethers for your java loving recipient to enjoy. Cleverly presented, boxed and bowed, open the lid to find all the gourmet goodies tucked inside – Enjoy! Includes: Premium Columbian Coffee, Jamocha Almond Fudge Coffee, Butterscotch Flavored Coffee, Tiramisu Flavored Coffee, Torani Almond Hazelnut Biscotti, Keepsake Coffee Themed Mug, Barista Blend Café Latte Mix, Amaretto White Chocolate Wafer Cookie, Dark Chocolate Wafer Cookie, Bali's Best Espresso Candy , Heavenly Gourmet Chocolate Chip Cookies, Mocha Hazelnut Java Wafer Cookie, Coffee Themed Care Package Gift Box. Each basket is hand crafted with attention to detail and tied with a bow for presentation.
Reviewer Comments:
If you mark "GIFT" in the checkout process, you can create a personalized message to go with this gift basket; however, multiple customers have complained that the note is not making it to their gift recipient. So, if you order it for someone, be sure to let them know to expect something from you.
The box is not a wood box as pictured and does not come with a lid in some cases. It is actually a cardboard box that is not reusable. So, you are paying for the contents, NOT for the gift box.
The quality of the contents inside the gift basket have been reported as being very high quality, and most customers are extremely satisfied with the cookies, candy, and coffee – just not the gift box.
If you would like to purchase the Coffee Lovers Gift Box, you can buy it now by clicking here.